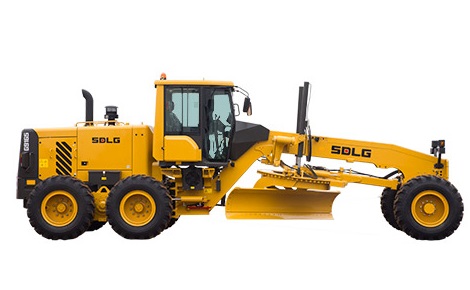 Performance Features
1. It is equipped with Weichai Deutz WP6G175 engine, which matches with Hangchi transmission perfectly, achieving optimum performance and fuel efficiency, energy saving and high efficiency.
2. Dual-pump double circuit constant displacement hydraulic system is applied, and the overall working system pressure is 21 MPa, having high working efficiency.
3. No-spin limited slip differential and heavy-duty roller chain drive balance box are provided to enhance the overall tractive force and the flatness of surface operated by the blade.
4. Pallet type working device driven by double cylinder plus rotating valve is applied by absorbing VOLVO technology, which ensures high driving force and reliability; the blade can rotate under a load and features high working precision, being a leader in the domestic industry.
5. Frame structure welded by box beam is of integrated modularized design; the rear agitator and other accessories can be accessed conveniently for removal and installation, and are independent of the transmission system such that the impact load will only be transfered to the rear frame, ensuring high reliability.
6. The swing frame linkage mechanism utilizes lubrication-free and maintenance-free composite bearing featuring small friction coefficient, high impact and wear resistance and strong reliability.
7. The working device applies 7-hole linkage mechanism and electro-hydraulic cylinder locking mechanism, ensuring safe and convenient operation.
8. A new generation cab is applied, ensuring good sealing performance, safety and comfort; the front field of vision is clear that front wheels and blade can be seen, facilitating operation and enhancing working precision.
9. The overall electrical system applies centralized control, and 3rd-level alarm electronic monitoring system and digitized stepping instrument panel ensure good human-machine interaction and convenient inspection and maintenance.
10. Auxiliary implements such as front dozer blade, front agitator, intermediate agitator, rear agitator and rear scarification rake are optionally available, and blade floating and automatic leveling system module can be installed.
Power, kW
129
Operating weight, kg
14600
The main parameters

| | |
| --- | --- |
| Front axle load, kg | 4400 |
| Rear axle load, kg | 10200 |
| The angle of the front wheel,° | ±18 |
| Turning angle of the front axle,° | ±16 |
| Angle of rotation of the front wheel,° | ±50 |
| The rotation angle of the articulated frame,° | ±23 |
| The diameter of the cutting plate(knife), mm | 1626 |
| Pressure on the ground the blade, N | 7720 |
| The size of the pile, mm | 3658×635×22 |
| Length, mm | 8975 |
| The height of the grader, mm | 3240 |
| The width of the grader, mm | 2710 |
| Minimum front axle clearance, mm | 610 |
| Speed (forward),km/h | 5/8/13/19,5/28,5/38 |
| Speed(backward), km/h | 5/13/28,5 |
| Minimum Turning radius, m | 7,6 |
| Blade clearance, mm | 445 |
| Blade cutting depth, mm | 787 |
| Blade turning angle(forward), ° | 47 |
| Angle of rotation of the blade(12), ° | 5 |
| Blade rotation angle vertically, ° | 90 |
| Sliding blade range, mm | L673/R673 |
| The maximum pulling force, Kn (F = 0,75) | 75 |
| Blade turning angle, ° | 360 |
| Track width, mm | 2260 |
| Wheelbase (F/R), mm | 6480 |
| Wheel base (rear axle), mm | 1538 |
| The ground clearance, mm | 430 |
| Machine size(LXWXH), mm | 8975x2710x3240 |

Engine

| | |
| --- | --- |
| Model | WP6G175E21 |
| Type | In-line water-cooled,4-stroke |
| Rated power ,kW | 129 |
| Rated speed, rpm/min | 2200 |
| Volume, L | 6,75 |
| Number of cylinders | 6 |
| Bore/stroke(mm) | 105/130 |
| The minimum specific fuel consumption, G/KW*h | 210 |
| Maximum torque, n * m/speed, RPM | 680/1400 |
| Ecological class | Euro2 |

Main transmission

| | |
| --- | --- |
| Model converter | ZFW320 |
| Disk diameter, mm | 320 |
| Type of gearbox | Semi-automatic switching under load |
| Type of drive axle | Triple |
| Type of tire | 17.5-25-12PR |
| Type of brake | Drum |
| Type of torque converter | Single stage ,single phase,three-element |
| Type of transmission | YD13 |
| PCC management | Electro-hydraulic |
| The type of balancing | Rotary |
| Rim | 14.00/1.5-25 |