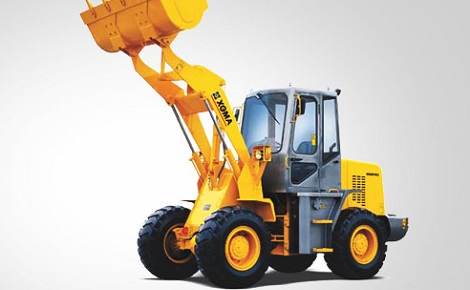 | | |
| --- | --- |
| The 1T wheel loader XG 9161 is priced economically, perfect for clients on a budget. An efficient but powerfully engineered machine, it comes equipped with a horizontal boom cylinder that generates colossal force upon impact. Coupled with a built-in self-leveling bucket for improved dumping, work has never been so efficient. XGMA also offers utilitarian maintenance design features with the wheel loader. It is fitted with XGMA exclusive transmission technology that utilizes a torque converter assembly to ensure efficient hydraulic oil control. In addition, it is designed with an intuitive front-hinged bonnet. Maintenance has never been so easy. | |

Excellent Performance
The new streamlined design, the ergonomically fit interior, and the iconic yellow exterior-this heavy machine is a powerhouse. Built with superior components from leading domestic suppliers, it is meant to last. The synergy from its torque converter and diesel engine ensures secure and reliable performance. Designed for great maneuverability and efficiency in confined spaces, our wheel loader offers an excellent steering angle and a small turning radius, all in one compact structure. Its exceptional layout design provides better power transmission, stability in performance, and ease of maintenance. For instance, the side-hinged fuel and hydraulic oil tanks are all outward adjustable.
Optional Fittings
The wheel loader is also available for purchase with an interior heating system, a cold start device, and a larger bucket of 1.5 m3, based on client specifications.
Overall Dimensions
 Operating weight
 5200 kg
 A Overall length
 5300 mm
 A'Overall length
 5191mm
 B height to top of cab
 2800 mm
 C width over tires
 2000 mm
 D Wheelbase
 2245mm
 E. Min. Ground clearance
 290mm
 F tread width
 1480mm
 G bucket width
 1996mm
 H Turning radius
 4450 mm
 H'Loader clearance circle
 4970mm
 I Overall height
 3870mm
 J Height to bucket hinge pin
 3235mm
 K Dump height
 2450 mm
 L Dump reach
 850 mm
 M Max. Digging depth
 106mm
 N Max. Steering angle
 35°
 O Max. Rollback
 46°
 P Departure angle
 30°
 Q Max. Dump angle
 45°
 Bucket capacity
 0.82 m³
 Tires
 16/70-20-14 PR
 Technical Specification
 Rated power
 44 kw (Weichai ZH4100)
 Rated load
 1500 kg
 Lifting time
 5.3 s
 Total cycle time
 ≤10 s
 Turning angle
 35°
 Fuel tank capacity
 100 L
 Hydraulic oil tank capacity
 116 L
 Travel Speed
 Speed ranges(F/R)
 2/2
 Forward I
 8km/h
 Forward II
 20km/h
 Reverse I
 8km/h
 Reverse II
 20km/h