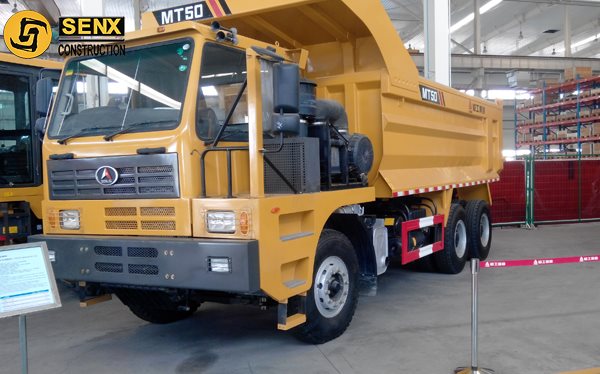 SDLG MT50 Mining Dumper
1. Reinforced riveted frame with large cross section, and suspension system strengthened, whole machine more reliable.
2. Offset drive's cab in frame structure, air suspension seat, sealing, safety and comfort improved as a result.
3. Split type 3-stage oil bath air filter applied to deal with tough mining working environment.
4. Drivetrain system optimally matched, large power output but low fuel consumption.
5. Oil temperature drops by 50% by converging Hoisting flow and steering flow, and failure rates of the hydraulic system decreases significantly as a result.
| Model | MT50 |
| --- | --- |
| Curb Weight  (kg) | 18000 |
| Gross Weight   (kg) | 50000 |
| Rated  Load   (kg) | 3200 |
| Body Volume (m³) | 20.5 |
| Dimension (L×W×H)   (mm) | 8775×2558×3720 |
| Wheelbase   (mm) | 4000+1400 |
| Drive Mode | 6×4 |
| Max. Speed    (km/h) | 65 |
| Max. Gradeability    (%) | 36 |
| Engine | WD615.69 |
| Rated  Power (kW) | 247 |
| Transmission | 9JSD150A |
| Tire | 12.00-20(P22) |
| Axle bearing capacity (t) | 9.5+16+16 |
| Axle Ratio | 6.733 |