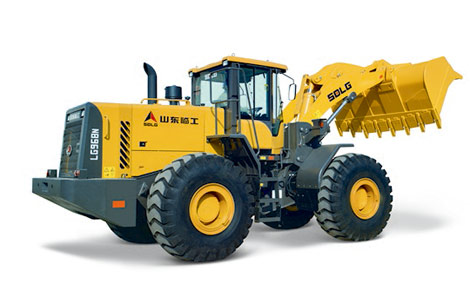 The LG968N wheel loader, applied with SDLG's new-generation high-reliability drivetrain, is jointly developed by drivetrain experts from SDLG and Volvo and has undergone a comprehensive test verification in Europe. This loader is one of the SDLG's new-generation core products whose traction and breakout force are ultrastrong, and is more adapted to heavy-duty operating conditions.
• Cab: It is applied with the cab for which the optimal design is conducted according to the ergonomics, which ensures wide vision and large operation space; the full-coverage cab interior is adopted, which ensures good sealing performance; the internal/external circulation A/C is equipped as standard, which ensures safety and comfort..
• Engine: It is equipped with the low-speed high-torque engine meeting the requirements of China II emission standard, which is proved reliable, efficient, energy saving and environmental.
• Cooling system: The electric control thermal management module is adopted for the cooling system, which efficiently reduces the engine water temperature, hydraulic system oil temperature and transmission oil temperature, and the complete machine is of high cooling efficiency, which reduces the oil consumption.
• Transmission system: It is applied with the transmission system of high reliability and SDLG's VRT200 axis-fixed transmission, whose service life is more than 6,000 h. The reinforced A508 drive axle is jointly developed by SDLG and VOLVO, with the service life prolonged by more than 30% and the bearing capacity increased.
• Frame: The new-generation frame of the box-type structure is adopted, which provides reasonable load distribution and steering soft stop and reduces the impact, with the overall fatigue life up to 8,000 h; the wheelbase is lengthened to 3,400 mm, which enables larger tipping load and more stable traveling and operation; the hinged part is of the composite structure of tapered roller bearing and spherical plain bearing, which is more suitable for the harsh operating conditions.
• Hydraulic system: The load-sensing fully hydraulic steering system is adopted, which ensures light, smart and smooth steering. The hydraulic system of the implement is of the pilot hydraulic control, which enables easy control. The hydraulic pipes are of the dual sealing structure, which further improves the reliability.
• Implement: The optimal design is conducted for the implement, which ensures high reliability and a service life of more than 8,000 h.
• The self-developed digitized stepping dashboard of SDLG is adopted, which ensures high human-machine interaction; the centralized control is adopted for the electric apparatus of entire machine, which ensures convenient inspection and maintenance and high reliability of electrical apparatus element.
| Item | Specifications |
| --- | --- |
| Operating weight | 19400~20550Kg |
| Bucket capacity | 3.0~5.5m³ |
| Rated load | 6000Kg |
| Max.breakout force | 210KN |
| Max.dumping height(E) | 3260~3860mm |
| Dumping distance(G) | 1100~1280mm |
| Length×Width×Height | 9553×3220×3440mm |
| Max.tractive force | 165KN |
| Max.climbing angle(H) | 28° |
| Total time | ≤12s |
| Steering angel(O) | 38° |
| Tipping load | 128KN |
| Rated power | 191kW |