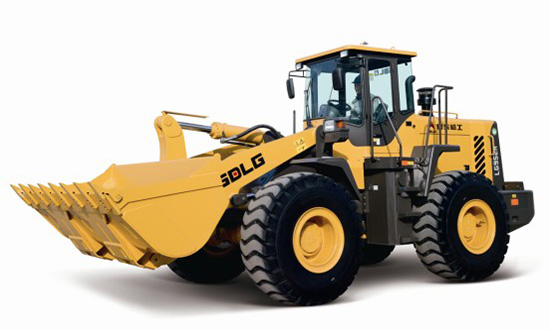 LG952H, a performance-optimized multi-operating mode product combining shoveling and loading and adopting the first-generation energy-saving technology of SDLG, is an energy-saving, highly-efficient and economic wheel loader with medium/short wheelbase, which is especially applicable for loading of bulk materials. Such wheel loader realizes the perfect matching of five main parameters including engine speed, traction force, pump flow and lifting time, enabling high operating efficiency and low fuel consumption.
·   It is equipped with low-speed and high-torque China II engine, which, through its perfect combination with the efficient high-capacity torque converter, enhances the operating efficiency, reduces the energy consumption and achieves a comprehensive energy saving of more than 10%.
·   The technologically-sophisticated SDLG planetary transmission with two forward gears and one reverse gear is applied, enabling easy operation, good reliability and high efficiency; the drive axle is reinforced to provide large loading capacity and high reliability.
·   The load-sensing full hydraulic steering system allows nimble steering, stable operation, energy saving and proper reliability, and the mechanically-controlled implement hydraulic system is easy to operate, and also stable and reliable in performance. The hydraulic pipelines are of dual-sealing structure, further enhancing the tightness of hydraulic system.
·   The digitalized stepping instrument panel independently developed by SDLG is applied, offering an effective human-machine interaction.
·   The new steel cab applied offers for drivers a wide vision and a greater operating space, in which the full-coverage interior is configured to give a good sealing performance, and the optional A/C offers a good comfort.
·   It is applied with the reinforced rear/front frames which have gone through 200,000 cycles of fatigue intensifying tests, and the load of complete loader is reasonably distributed, both of which contribute to a high loading capacity and a good stability;it is designed with the medium/short-wheelbase body featuring small turning radius, meeting the operation requirements in narrow space.
·   The implement is optimized in design, allowing an increase in breakout force, lifting force and full-load coefficient.
| Item | Specifications |
| --- | --- |
| Operating weight | 16400~16450Kg |
| Bucket capacity | 2.4~4.5m³ |
| Rated load | 4500Kg |
| Max.breakout force | 150KN |
| Max.dumping height(E) | 3070~3370mm |
| Dumping distance(G) | 1160~1190mm |
| Length×Width×Height | 7912× 3024 × 3349 |
| Max.tractive force | 160KN |
| Max.climbing angle(H) | 28° |
| Total time | ≤10s |
| Steering angel(O) | 35° |
| Tipping load | 90KN |
| Rated power | 162kW |