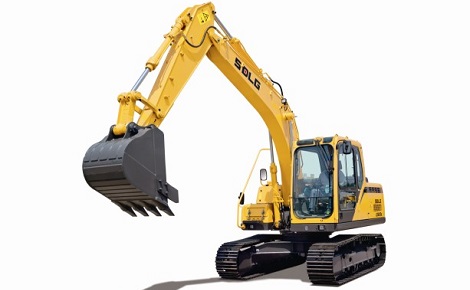 Performance Features
LG6135E, a product developed by SDLG via introducing VOLVO advanced technologies, is integrated with advantages of energy saving, reliability and comfort, and applied with reinforced working devices and optimally-configured power hydraulic system, applicable for various harsh working conditions.
1.The turbocharged and intercooled engine is equipped with the second generation of Deutz electric governor system EMR2, featuring strong power, good economic and environmental performance and high reliability; the three-stage filtration intake system including pre-filtration and air filtration increases the performance and service life of the engine; the automatic adjustment of speed switching and power mode are realized, making the operation more convenient and efficient.
2. It is applied with Kawasaki hydraulic pump and Toshiba main control valve. The hydraulic system is applied with the twin-pump constant power negative flow control and theautomatic sensing control , and enjoys functions such as   regeneration and priorization of lifting arm and stick, providing high working efficiency, strong digging capability, precise operation and proper economic performance.
.The traveling system is driven by a self-switchable double-speed travel motor, and both the travel brake and slewing brake are of wet type, providing stable braking and high reliability.
4. The strengthened X-shape lower-structure and the strengthened lifting arm and stick equipped as standards enhance the adaptability to harsher working conditions.
5. The cab, which is spacious and well sealed and insulated, is equipped with sunshade nets in three sides; the  silicone oil damper applied mitigates the vibration and impact. It is provided with premium damping seat and automatic air conditioning with two-stage air filtration, creating a comfortable driving environment.
6.The electronic control systems such as EECU, VECU and IECU of SDLG's proprietary technology are applied so  that the machine can operate with a variety of modes to suit different conditions, ensuring lower energy consumption and higher working efficiency. Functions including self-inspection, monitoring, emergency fault alarm, GPS positioning and remote monitoring are available, realizing good human-machine interaction and easy operation and maintenance.
7. Diversified products: working devices and aids such as hammer break and rotary grab are optionally available.
| | |
| --- | --- |
| Item | Specifications |
| Operating weight | 12500 kg |
| Bucket capacity | 0.48 m³ |
| Max.excavation force | 85kN |
| Swing speed | 0-10.3 r/min |
| Traveling speed | 3.0/5.1 km/h |
| LxWxH | 7340×2490×2830 mm |
| Max.digging radius | 7790mm |
| Max.digging depth | 5060mm |
| Max.digging height | 5625mm |
| Engine rated power | 66kW |
| Operating pressure | 33/35MPa |
| Max.climbing angle(H) | 35° |