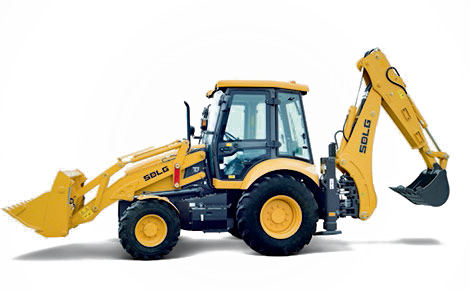 Performance Features
1. It is applied with the Weichai WP4G95E221 engine of in-line arrangement, water cooling, four-stroke and direct injection, featuring a strong power above 100HP, large torque, low noise and reduced fuel consumption.
2. The fully-synchronous Italian 4-speed CARRARO  transmission is perfectly matched with an appropriate hydraulic torque converter, enabling electric shift of forward gears and rear gears, agile reaction and easier uphill.
3. The front steering drive axle specific to backhoe loader enjoys a steering angle up to 55° and electrically-controlled disengagement of driver.  The rear drive axle is provided with double wet-type brakes and electrically-controlled differential lock.
4. The hydraulic system designed with fluid confluence and shunting control by three pumps and four valves  enables compound actions and also micro-actions excavation. The load-sensing full hydraulic steering system is adopted, which ensures nimble steering and good stability and reliability.
5. The evacuating device that can move laterally increases the digging range and working efficiency.  The parallel linkage designed at the loading end allows for an energy transmission efficiency higher than 70%.  While the linkage designed at the excavating end allows for a bucket rotating angle more than 200°.
6. The streamlined engine hood broadens the field of view of drivers, and enables a coordinative and extremely symmetric and aesthetic appearance.
7. The design of built-in fuel tank and pipelines can effectively prevent scratches and damages from external impact in operations at large depth.
8. The cab is equipped with full-height glazing all around and the air conditioning as standard, providing comfortable driving environment with low noise and vibration as well.  The eight-way adjustable seat that can slide back and forth and also rotate by 360° is perfectly matched with an angle-adjustable steering wheel.
| | |
| --- | --- |
| Item | Specifications |
| Operating weight | 8500KG |
| Bucket capacity | 1.0 m³ |
| Digging bucket Capacity | 0.2 m3 |
| Rated load | 3000Kg |
| Max.breakout force | 60KN |
| Max.dumping height(E) | 2720mm |
| Dumping distance(G) | 1020~1050mm |
| Length×Width×Height | 5865× 2270 × 2240 |
| Max.tractive force | 82KN |
| Max.climbing angle(H) | 22° |
| Max digging depth | 4329mm |
| Max digging radius | 5343mm |
| Rated power | 70kW |